News story
Immersive 3D visualisation
Case study from Birmingham-based Daden Limited who pitched their ideas to industry and investors at the CDE Marketplace on 5 February 2015.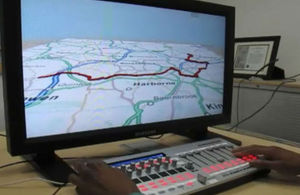 Daden Limited has been funded to look at different aspects of how people use immersive 3D visualisation. The Birmingham-based company received CDE funding to develop systems that allow you to 'fly' through the data – taking up a variety of viewpoints and maximising the brain's ability to spot patterns and anomalies.
Daden's Managing Director, David Burden, said they worked with Aston University on the project:
The CDE funding enabled us to work with a leading University human factors team to understand and quantify what had been to us a gut feel of the differences between 2D and 3D visualisation, and so helped us design a better product.
Daden has also received CDE funding for a second project. As well as a conventional PC interface, the company uses a music mixing desk to allow operators to 'mix' and 'fade' different data sets, while further work has interfaced the Oculus Rift virtual reality headset to the system. The company is now working on a Mark 2 application, which can plot and interact with more than 7 million data points.
Centre for Defence Enterprise
Building R103
Fermi Avenue

Harwell Oxford
Oxfordshire
OX11 0QX
Email cde@dstl.gov.uk
Telephone +44 (0)30 67704236
Alternative number +44 (0)30 67704237
Please email for the quickest response.
Published 5 February 2015
Last updated 10 February 2015
+ show all updates
Pitch presentation slides added.
First published.