News story
Illegal animal medicines: prosecution of Ms Ruth Bell
Details of the prosecution of Ms Ruth Bell for the illegal posession of veterinary medicines.
This news article was withdrawn on
Withdrawn as over a year old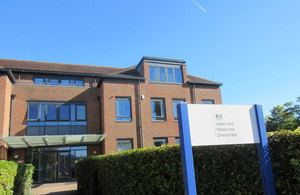 On 13 December 2013 at Newton Aycliffe Magistrates Court, Ms Ruth Bell was fined £2000, plus £85 costs and a £200 victim surcharge. The total of £2285 to be paid within seven days.
Ms Bell pleaded guilty to the charge of possession of an unauthorised veterinary medicinal product under the Veterinary Medicines Regulations.
Nineteen bottles purportedly to be Micotil were previously seized from Ms Bell. These bottles contained counterfeit product and were intended for food producing species.
This product can also be potentially fatal if used incorrectly.
Further information about seizure and improvement notices can be found in Veterinary Medicines Guidance Note (VMGN) No. 10 – Guidance on Enforcement. 
Published 26 November 2014