World news story
Iconic GREAT British bus arrives for Korea tour
This was published under the 2010 to 2015 Conservative and Liberal Democrat coalition government
London Routemaster in Korea for one week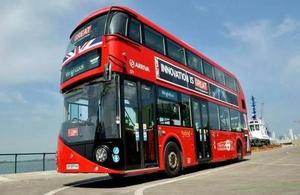 The British Embassy in Seoul this weekend launches a series of events featuring a GREAT British double-decker bus. The icon of British transportation is in Korea until 20th October as part of a global tour.
Built and owned by Wrightbus, the routemaster uses the latest green diesel-electric hybrid technology and produces half the carbon dioxide of a conventional diesel bus.
The double-decker begins its Korean tour at the World Energy Congress in Deagu this weekend, where it will be used to promote innovation and green energy. It will also be used as a meeting venue for delegates and potential investors.
It will perform a similar function at COEX Seoul during the Renewable Energy Korea event and the Seoul Conference on Cyberspace.
Following the conventions, the bus will be used by the British Council and commercial partners for activities in and around Seoul.
At the COEX on the 16th and 17th , the bus will play host to British Airways, Jo Malone, and Meantime Beer promotions, as well as a British Council Young Learners English Classes each day.
On Friday 18th and Saturday 19th, the routemaster double-decker will be used for a series of separate tours featuring invited bloggers, students and North Korean new settlers. Singer Choi Sung-bong will perform on one of British Airway's sponsored tours and British Ambassador Scott Wightman will lead the tour for the new settlers. Saturday concludes on a cultural note with a traditional Samulnori performance in Gwanghwamun Square. KBS radio will also be using the bus for an outside broadcast of their popular Good Morning Pops show.
On Sunday, the bus will serve as a backdrop for a traditional Korean archery performance.
During its time in Seoul, the bus will also be available for photo opportunities in Gwangwhamun Square. Keen photographers are encouraged to enter the British Embassy facebook contest where they will have a chance to win British Embassy/British Airways gift bags and prizes. Three winners will then be selected daily from 16th-20th October.
Korea is the first stop in Asia for the GREAT Britain routemaster. At the end of its stay here, it will move on to Singapore. The bus will visit 4 continents and 16 countries as part of a drive to promote Britain as a world class destination for business, tourism and education.
Renowned British designer Thomas Heatherwick designed the bus and it is fully accessible to the disabled.
Document information
Published: 11 October 2013