ICC Review Conference a "landmark occasion"
Foreign Office Minister Henry Bellingham welcomed the opening of the first review conference of the Rome Statute of the International Criminal Court.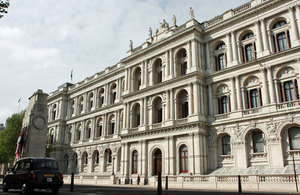 In a statement released today, Henry Bellingham MP, Parliamentary Under-Secretary of State at the Foreign and Commonwealth Office, said:
"Today sees the opening in Kampala of the first Review Conference of the Rome Statute of the International Criminal Court. This is a landmark occasion for the international community, with representatives attending from all 111 ICC States Parties, plus delegations from non-States Parties and NGOs engaged in the field of international criminal justice. They will meet to discuss a number of amendments to the existing Rome Statute, and to undertake a stock-take of international criminal justice since the statute was first adopted in 1998.
The UK was at the forefront in 1998 of international efforts to establish the International Criminal Court, and we have remained a vocal supporter of the Court since it was established in 2002. It is our belief that it is now a crucial force in the global fight against impunity for the most serious crimes of international concern. The UK delegation to the Review Conference will have a leading role to play in the negotiations that will set the tone for the continued development of this international institution.
The United Kingdom has been one of the leading contributors to the Court's Trust Fund for Victims, which is providing assistance to those who have been affected by LRA crimes in Northern Uganda. So I am particularly pleased that the ICC States Parties have chosen to hold their conference in Uganda. This will provide a real opportunity for the victims and affected communities to have their voice heard during the conference."
Published 31 May 2010