Press release
Ian Cheshire appointed as DWP's lead non-executive
Iain Duncan Smith appointed Ian Cheshire as the lead non-executive member on the Department for Work and Pensions Board. Mr Cheshire …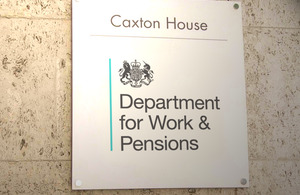 Iain Duncan Smith today appointed Ian Cheshire as the lead non-executive member on the Department for Work and Pensions Board.
Mr Cheshire has been Chief Executive of Kingfisher plc since January 2008. His previous roles at the company include Chief Executive of B&Q and CEO, International and Development since joining in 1998.
Welcoming the appointment, Iain Duncan Smith said:
Ian brings a wealth of experience to this position that I believe will help the Department to deliver its extensive programme of reform. Ian, along with our other non-executive Board members, will help drive up performance across the Department, demonstrating real value for money for the country's tax payers.
Ian Cheshire said:
The opportunity to support the Department in delivering its ambitious programme of reform is one I welcome. I believe that Government and business should be working together and sharing experience and expertise and I am pleased to be playing my part in this approach.
Permanent Secretary, Robert Devereux said:
I warmly welcome Ian to the role of lead non-executive board member. His experience in business will be invaluable to helping the Department meet the challenges of reforming the welfare and pensions system.

Ian will lead a strong team of non-executives with the expertise to help DWP deliver for our customers and tax payers.
Ian Cheshire's appointment follows a cross-Whitehall exercise to appoint lead non-executive members to the boards of each Government department, with the aim of improving governance across Whitehall and overhauling departmental boards.  In June last year Lord Browne was appointed as the first lead non-executive director to the Cabinet Office board and has been working with Secretaries of State on appointing non-executive directors to their boards.
Notes to Editors:
The role of lead non-executive Board member is a new one created by the Coalition Government.
They will exercise their role through influence and advice, supporting as well as challenging the executive. They will advise on performance (including agreeing key performance indicators), operational issues (including the operational/delivery implications of policy proposals), and on the effective management of the Department.
They will also provide support, guidance and challenge on the progress and implementation of the business plan, and be involved in recruiting, appraising and ensuring appropriate succession planning of senior executives. They will form committees responsible for audit, risk and remuneration. To share best practice and to ensure Departments learn from the successes and failures of comparable organisations, they will meet regularly with other non-executives across government and the Government lead non-executive Board member. 2. Ian was appointed as an Executive Director of Kingfisher plc in June 2000 and CEO in January 2008. He was previously Chief Executive, B&Q (05-08), Chief Executive of International and Development (02-05), Chief Executive of e-Kingfisher (00-02) and Group Director of Strategy & Development (98-00). Before joining Kingfisher he worked for a number of retail businesses including Sears. 3. Non-executive Board members (NEBM) will be offered an honorarium of £15,000 a year in line with the Bank of England non-executive Directors of Court. The role of Lead NEBM attracts an additional £5,000 a year. Ian Cheshire has waived his entitlement to these payments.
Published 31 January 2011