Iain Duncan Smith: Welfare reforms realised
Iain Duncan Smith's Welfare Reform Bill became law today marking an historic moment for the Coalition Government.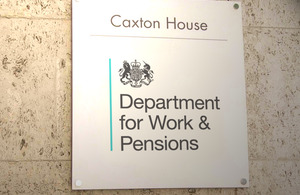 Iain Duncan Smith's Welfare Reform Bill became law today marking an historic moment for the Coalition Government and delivering on his promise to restore the welfare system to one that is fair for society and will make work pay.
These are the biggest reforms for 60 years and promise to change the lives of millions of households, providing support to the most vulnerable people in society, with around 2.8 million low to middle income households better off and around 900,000 adults and children lifted out of poverty under Universal Credit. 
Work and Pensions Secretary Iain Duncan Smith said:
I'm delighted this Bill, that will fundamentally change people's lives, has received Royal Assent - this is an historic moment for the Coalition Government and for my department.

This Bill reforms virtually every part of our welfare system and I look forward to implementing the changes our country badly needs.

The Universal Credit will mean that work will pay for the first time, helping to lift people out of worklessness and the endless cycle of benefits. Whilst those people who need our help and support will know they will get it without question.
Universal Credit will, from October 2013, replace the current complex myriad of means-tested benefits with single benefit system.  It will be simpler for people to navigate and harder for people to defraud, but most importantly it will make work pay.  No longer will it be possible to be better off on benefits than in work. 
The reforms, which also include introducing a £500 per week household benefit cap, a new Personal Independence Payment to replace Disability Living Allowance, tougher penalties for benefit fraudsters and introducing a new bedroom size criteria to make better use of our social housing stock will provide a welfare state fit for the 21 century that's both fair to claimants and the taxpayer.
The Department for Work and Pensions will be contacting hundreds of thousands of claimants over the coming weeks and months to prepare them for the changes ahead.
Notes to Editors
Welfare Reform Key Figures:
Universal Credit
Around 2.8 million low to middle income households will be better-off on Universal Credit.
The average overall gain will be £29.00 per week under UC.
UC will lift around 900,000 individuals out of poverty, including more than 350,000 children and around 550,000 working-age adults.
Government will invest an additional £300 million into childcare support under Universal Credit, on top of the £2bn already spent under the current system.
Removing the hours rule will mean that around 80,000 more families with children will benefit from childcare support for the first time.
By October 2017; approximately 12 to 13 million tax credit and benefit claims will be transformed into eight million Universal Credit payments.
Benefit cap
The benefit cap of £26,000 will mean that no family on benefits will earn more than the average salary of a working family (£35,000p.a. before tax)
67,000 households will be affected by the cap.
Benefit cap will provide savings of £290m in 2013/14 and £330m in 2014/15 (cash terms) or £275m in 2013/14 and £305m in 2014/15 (at 2011/12 prices).
Social Sector Size Criteria
Social Sector Size Criteria will stop the practice of the state paying for rooms that are not being used.
This will help tackle the social housing shortage that blights many lives in our towns and cities
5 million people in England alone are waiting for social housing.
In London 70,000 households are getting Housing Benefit for extra bedrooms they do not need - costing the tax payer £80million a year
Disability Living Allowance and Personal Independence Payments
We are replacing DLA with PIP and introducing a new face to face assessment and regular reviews - something missing under the current system. 
The proportion of people who will receive both components at the highest rate will go up in PIP compared to DLA (20% compared to 16%), as will the proportion of people who receive at least one component at the highest rate (56% compared to 55%).
We continue to spend over £40bn a year on disabled people and their services, including £12.6bn a year on DLA - about the same as the entire Transport budget (£13bn).
Overall the number claiming DLA has grown by more than two million since it was introduced in 1992 - from 1.1 to 3.2 million (around 2 million are people aged 16-64).
Introducing tougher penalties for benefit fraud including:
A minimum administrative penalty of £350, or 50% of the overpayment, whichever is higher, from May 2012; a new £50 civil penalty in cases of claimant error which results in an overpayment as a result of negligence or failure, from October 2012 and from April 2013 an extended loss of benefit of up to 3 years for offences which result in a conviction.
Published 8 March 2012