Press release
Iain Duncan Smith: Early roll out of Universal Credit to go live in Manchester and Cheshire
Universal Credit will go live in the Greater Manchester and Cheshire region in April 2013 - six months before the national roll-out.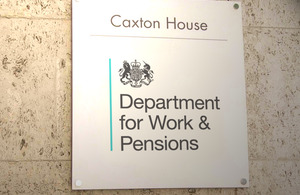 Universal Credit will go live in the Greater Manchester and Cheshire region in April 2013 - six months before the national roll-out, Work and Pensions Secretary Iain Duncan Smith has announced today.
The early roll out of the Government's flagship new benefit system is expected to see up to 1500 new Universal Credit claimants coming on stream across four areas - Tameside, Oldham, Wigan and Warrington - each month. It will test the new simpler, single benefit payment system with local authorities, employers and claimants in a live environment before Universal Credit is rolled out across the country in October 2013.
Iain Duncan Smith said:
"By sweeping away the complexities of the current benefit system, Universal Credit will be simpler and more straightforward for people to claim and this early roll out marks a significant step in the delivery of our welfare reforms".
"The early introduction of Universal Credit demonstrates our ongoing commitment to transforming the welfare system and will improve the lives of millions of claimants by incentivising work and making work pay".
"Work will continue over the coming months to ensure that jobcentres, local authorities and employers in the Greater Manchester and Cheshire region are geared up to support the new service ahead of the early roll out in April".
Lord Freud the Minister for Welfare Reform said:
"The development of Universal Credit is progressing extremely well. By next April we will be ready to test the end to end service and use the feedback we get from claimants to make final improvements before the national launch. This will ensure that we have a robust and reliable new service for people to make a claim when Universal Credit goes live nationally in October 2013."
Today Ministers have also confirmed that Universal Credit will be introduced across Britain, starting on a small scale in every region from October 2013 and building up capacity to April 2014, when all new claims to the current benefits and credits will be entirely phased out.
People who have recently lost their jobs and are closest to the labour market will be the first to make a claim for Universal Credit, with the majority making claims online rather than by telephone or face to face.
Notes to editors:
Universal Credit will go live nationally in October 2013.
Universal Credit will replace income-related JSA, income-related ESA, Income Support (including SMI), Working Tax Credits, Child Tax Credits and Housing Benefit.
Migration of people already on benefits whose circumstances do not change will start from April 2014 and is planned to be complete by 2017 when 12 to 13 million tax credit and benefit claims will have been transformed into 8 million households receiving Universal Credit by 2017.
Universal Credit will help to lift as many as 350,000 children and 550,000 adults out of poverty.
2.8 million households will have higher entitlements as a result of Universal Credit.
Over 1.3 million households will have an increase in entitlements of more than £25 a week.
Transitional protection to Universal Credit recipients will ensure that people will not receive less as a result of their move to Universal Credit, where circumstances have remained the same.
£2 billion funding has been allocated over the Spending Review period for the implementation of Universal Credit.
Published 24 May 2012