News story
Hunt announces plans to prepare NHS for winter
Plans to help keep people safe from the cold this winter have been set out by Health Secretary Jeremy Hunt today.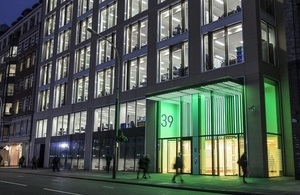 The plans will help the NHS prepare for winter and meet the increase in winter related health problems always seen at this time of year.
England sees thousands of extra deaths in the winter as a result of cold weather and associated health problems. Heart attacks, stroke and respiratory problems rise in the cold weather and the NHS comes under increased pressure from people getting flu, people injuring themselves through falls or slips and other health problems associated with colder weather, such as the norovirus vomiting bug.
As is the case every year, the NHS puts preparations in place before the winter and those are now in place in every area of England.
The Department of Health has put in place the following measures to help people keep well this winter.
1. A flu vaccination advertising campaign** to encourage people in at risk groups to get vaccinated if they haven't already done so. This has been done because:
Vaccination rates for some at risk groups are behind where they were at the same point last year and we want to improve on last year's rates (figures in notes to editors below);
-       To guard against any possible false sense of security following a mild winter last year; and
-       To build on local campaigns which have been running.
The Cold Weather Plan,** which will be jointly run with the Met Office and Health Protection Agency. This will;
 
-       Advise people on how to stay healthy and thus relieve pressures on the NHS.
-       support local communities and professionals to better prepare for and respond to severe cold weather events in the coming winter.
3.The Winterwatch website.** This will;
-       provide a one-stop shop for winter related health stats (this will launch on 15 November)
4. A £20 million fund, distributed among local authorities.**
-       Local authorities bid for this money to help vulnerable people in their areas stay warm and well this winter.
-       Around 4,700 people die every year after getting flu. People in at risk groups are eleven times more likely to die than someone who is not in an at-risk group.
-       The flu advertising campaign will launch on Monday (5 November) and will encourage people in at risk groups who haven't yet been vaccinated to make sure they protect themselves from flu.
Health Secretary Jeremy Hunt said:
"Cold weather can be hazardous for our health – particularly for older people and those with respiratory illnesses. Each year, the cold weather is responsible for an increase in deaths and thousands of cases of flu, falls, heart attacks and strokes. In past years, these extra pressures have cost the NHS £42 million in emergency admissions alone.
"As winter approaches, we should all be on our guard against health problems - by taking simple steps and looking after our older friends and family we can keep warm and well."
**Public Health Minister Anna Soubry said: **
"We have taken the decision this year to run a flu campaign because too many people in at risk groups have not come forward for the jab yet, although local campaigns have been running for the past month. People may be lulled into a false sense of security about the seriousness of flu following a mild winter last year. The national campaign will build on the local 'flu safe' campaigns that have been running.
"Our campaign aims to encourage people who are most at risk from flu, who have put it off or who don't think it is important, to get the vaccine. If pregnant women are vaccinated, they not only protect themselves but also protect their newborn babies from catching flu. If you are in a risk group, don't miss the chance to be vaccinated; contact your GP surgery and make an appointment."
David Salisbury, Director of Immunisation, said:
"You are eleven times more likely to die from flu if you are pregnant or have a serious health condition and each year thousands of people die after catching flu. That's why we are reminding people who are particularly vulnerable to the consequences of flu to get the vaccine.
"Severe weather can be dangerous for vulnerable groups such as older people and those with serious illnesses. It's important for people to look after their health."
For more information contact the Department of Health press office on 0207 210 5301.
Uptake figures from same point last year
Provisional weekly vaccine uptake data for week 43 (week ending 28 October 2012) from a sample of 67.7% of  all automated GP practices participating in the 2012/13 weekly sentinel survey via Immform:
2012/13 (%)
2011/12 (%)
2010/11 (%)
Patients aged 65 years or older
48.9
54.8
46.8
Patients aged under 65 years in risk groups (excluding pregnant women without other risk factors)
28.7
32.2
26.1
Pregnant women*
23.1
13.6
1.
**Final Uptake Figures from previous years **
  2011/2012 2010/2011
65s and over 74% 72.8%
Under 65s with clinical conditions 51.6% 50.4%
Pregnant women 27.4% 38%
The Department's Cold Weather plan can be found on the Department of Health website.

The NHS has been asked to particularly focus on eight key areas for winter plans which are: handover of patients from ambulances to acute trust, operational readiness - such as bed management, capacity and staffing, out of hours arrangements, joint working with social care, ambulance service and A&E links, critical care services, preventative measures, including flu campaigns, and communications.

Influenza, also known as flu, is a highly infectious illness caused by viruses. The viruses change every year and so it is important that those at risk make sure they get the jab that is updated each year to protect themselves.
At risk groups, which are eligible for the free flu jab, are listed below:
You are eligible to receive a free flu vaccine if you:
are 65 years of age or over (including those who will be 65 by March 31 2013)
are pregnant (including women who become pregnant during the flu season)
have a certain medical condition (see below)
are living in a long-stay residential care home or other long-stay care facility (not including prisons, young offender institutions or university halls of residence)
are in receipt of a carer's allowance, or you are the main carer for an elderly or disabled person whose welfare may be at risk if you fall ill
are a healthcare worker with direct patient contact or a social care worker (see below)
The flu vaccine is offered free to anyone over the age of six months if they have any of the following medical conditions:
chronic (long-term) respiratory disease, such as severe asthma, chronic obstructive pulmonary disease (COPD) or bronchitis
chronic heart disease, such as heart failure
chronic liver disease, such as hepatitis
chronic neurological conditions, such as Multiple Sclerosis, Parkinson's disease or motor neurone disease
problems with your spleen - for example, sickle cell disease, or if you have had your spleen removed
a weakened immune system due to conditions such as HIV and AIDS, or as a result of having treatment that suppresses the immune system, such as chemotherapy
If you live with someone who has a weakened immune system, you may also be advised to have a flu vaccine. Speak to your GP about this.
Published 3 November 2012