Hundreds of Service leavers benefit from transition fair
Around 500 soldiers from across the UK set to leave the Armed Forces have taken advantage of a groundbreaking fair to ease their transition to civilian life.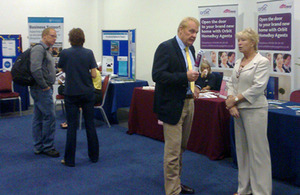 The 143 (West Midlands) Brigade Transition Fair took place jointly with the Career Transition Partnership (CTP) Employment Fair at the International Centre Telford on Monday (3 September).
The fair was the first of its type to be held on a joint basis with the CTP and focused on education, health, housing and welfare.
Exhibitors at the Transition Fair included Birmingham City Council, Telford and Wrekin Council, Shropshire Council, Staffordshire County Council and Worcestershire County Council.
Welfare organisations in attendance included SaBRE (Support for Britain's Reservists and Employers), the MOD's HIVE Information Service (HIVE Information Centres provide support to all members of the Armed Forces community), Big White Wall (an online counselling service for Armed Forces personnel), the Royal British Legion, SSAFA (Soldiers, Sailors, Airmen and Families Association), the Army Welfare Service, the Army Families Federation and 'Warriors to Work'.
Major Andy Carney said:
The Transition Fair enhanced the Employment Fair for the Service leavers and it was very positive that a Service leaver successfully secured employment at the Employment Fair, then visited the Transition Fair and obtained housing from Birmingham City Council, bearing out the 'one-stop' concept.
CTP management was pleased with the integration and enhancement the Transition Fair brought and it was agreed that there would be increased involvement and working between both organisers at an early stage to ensure that integration was further embodied for the next West Midlands Employment Fair.
Published 4 September 2012