Hundreds more to receive campaign medals with changes to criteria
Hundreds more British servicemen and women will receive operational campaign medals under new plans announced by the MOD today, Wednesday 4 August 2010.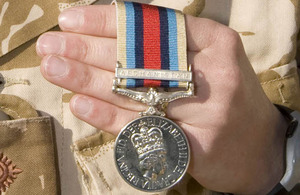 At present, members of the Armed Forces who serve for 30 continuous days qualify for Iraq and Afghanistan campaign medals. Following a review, those who have served for an aggregate period of 45 days will also now be eligible. These changes will be backdated to the start of both operations.
The Minister for Defence Personnel, Welfare and Veterans, Andrew Robathan, said:
I am pleased to be able to announce these changes, which will mean that hundreds of brave personnel who have served in the most dangerous of circumstances will now receive the recognition they deserve.
Examples of Service personnel who could now be eligible include members of the aeromedical evacuation teams who accompany injured patients back to the UK.
Under the new plans, personnel who deploy for short periods of time will be allowed to build up accrued days to achieve an aggregate qualifying period of 45 days' service.
These changes have been approved by Her Majesty The Queen following recommendations by military Chiefs of Staff.
Serving personnel who believe they may now be eligible should apply through their unit admin staff.
Ex-Service personnel should contact the the MOD Medal Office - see Related Links.
Published 4 August 2010