Hundreds gather in Barnsley to welcome home the Light Dragoons
Hundreds of people lined the streets of Barnsley yesterday to welcome home soldiers of the Light Dragoons from Afghanistan.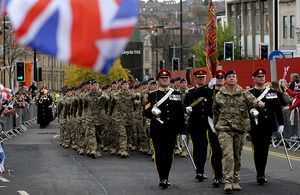 People hung out of office windows and shoppers stopped to greet the soldiers with applause and cheers of 'well done' and 'thank you' as they marched through the streets.
The regiment, which is known as 'England's Northern Cavalry', deployed over 320 soldiers to Afghanistan in March.
Prior to the start of the parade, the Lord-Lieutenant of South Yorkshire, David Moody, and the Mayor of Barnsley, Councillor Dorothy Higginbottom, inspected the troops.
A minute's silence was then held in memory of all those who paid the ultimate sacrifice on this latest tour of Afghanistan, including Sergeant Lee Davidson who was from Doncaster.
Addressing the troops, the Mayor of Barnsley said:
We are here today to let you know how very proud the people of Barnsley are of you. We are here today to let your families and friends know that we share their relief and happiness that you are here, safe and sound.
However, sadly there are some who have not returned home from this latest tour and in particular we will remember Sergeant Lee Davidson. I want you to know we will never ever forget them.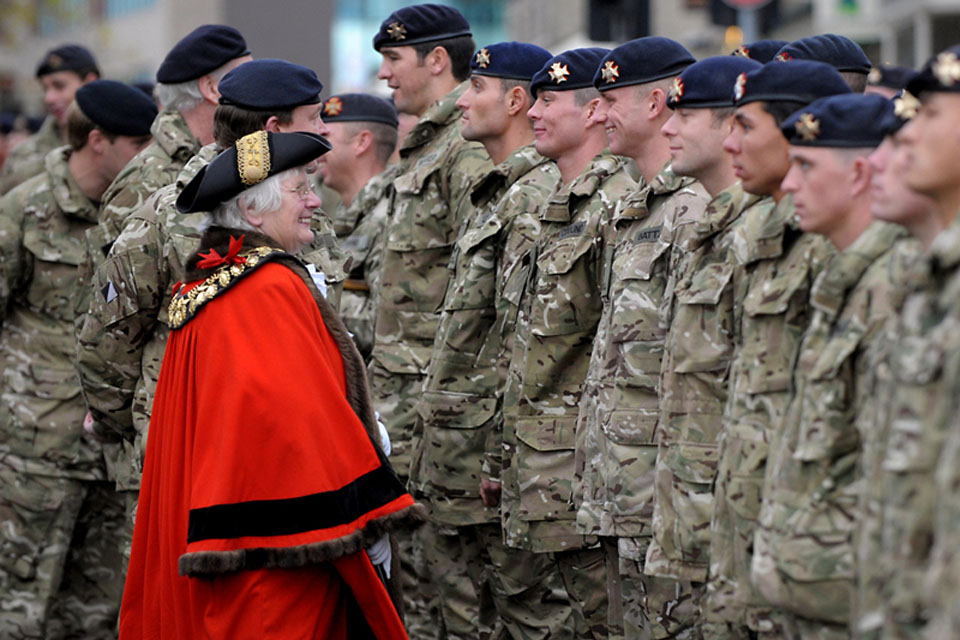 Jeanette Keen was at the parade to see her sons Lance Corporal Liam Keen and Trooper Matthew Keen on parade. She said:
I was really, really proud of both them and Barnsley. It was emotional, a very proud day. I just enjoyed the moment; it's just great to have them home.
Lance Corporal Keen deployed to Afghanistan whilst Trooper Keen remained in the UK working as part of the Rear Operations Group.
Also there to see her son Trooper Luke Hodson was Carol Denton. She said:
It was such a proud moment. I was just overwhelmed, I filled up with tears. He's matured so much, he's almost a perfect son.
During their six-month tour the Light Dragoons carried out some 248 operations, searched 1,700 Afghan compounds and discovered over three tonnes of homemade explosives and significant quantities of other bomb-making equipment.
The soldiers from A Squadron acted as the eyes and ears of 12th Mechanized Brigade and also provided route security for convoys.
D Squadron delivered training and mentoring support to the Afghan National Police Force and were later augmented by members of A Squadron.
Their fellow Light Dragoon sister unit, B Squadron, was part of the Brigade Reconnaissance Force which acted on military intelligence to remove key insurgency equipment and personnel from the area of operations.
Here in the UK, C Squadron was the Rear Operations Group, ensuring that the families remaining behind were given the very best welfare support and that individual soldiers were fully prepared to deploy if needed.
The Commanding Officer of the Light Dragoons, Lieutenant Colonel Sam Plant, said:
It was a great privilege to take part in this homecoming parade. We are deeply grateful for the support shown to us by the people of Barnsley and the council.
Based in Robertson Barracks at Swanton Morley in Norfolk, the regiment has a long history in the reconnaissance role which dates back to the early 18th century.
This was the regiment's fourth tour of Afghanistan, having had squadrons deployed in 2006, 2007 and 2009.
Although a very successful tour, it was not without sacrifice, and the Light Dragoons will always remember those who died including Sergeant Lee Davidson who was killed when the vehicle he was travelling in was hit by an improvised explosive device on 9 September.
Published 14 November 2012