Humber Gateway offshore wind farm given go-ahead
The Yorkshire and Humber region could benefit from jobs and investment as E.ON was granted permission to construct a 230MW wind farm off the…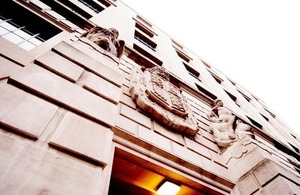 The Yorkshire and Humber region could benefit from jobs and investment as E.ON was granted permission to construct a 230MW wind farm off the coast of Humberside.
The Rt Hon Chris Huhne MP, Secretary of State for Energy and Climate Change said:
"Offshore wind not only provides clean, green, secure energy, the investment that comes with it is great for the UK economy too.
"A new wind farm off the Humberside coast will be a further jobs and investment boost for the region, hot on the heels of Siemens' announcement of plans to develop the Port of Hull."
The Humber Gateway wind farm will generate enough electricity to power up to around 150,000 homes.
The announcement came as Energy Minister Charles Hendry co-chaired the Offshore Wind Developers Forum in London, where wind farm developers discussed how the Government's proposals for reforming the electricity market can help remove barriers to investment.
---
Notes for editors
Documents regarding the wind farm consent are available from Energy Infrastructure Portal: Recent Decisions on Applications
The Offshore Wind Developers Forum brings together Government and industry to work on solutions to remove barriers that have the potential to impede the viability and deliverability of offshore wind in the UK, and also to try to maximise benefits to the UK economy.
On 18 December 2010, the Government launched a consultation on reforming the electricity market. More details are available from the associated press notice.
The developer's website: E.ON UK
Published 9 February 2011