Human rights podcast marks World Day Against the Death Penalty
The second in our series of human rights themed podcasts focuses on the theme of minimum standards on the use of the death penalty, as well as opportunities for future action on the death penalty.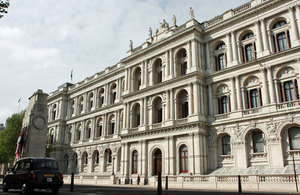 This audio download is chaired by the FCO's Head of Human Rights Louise de Sousa. Participants include Professor Roger Hood from the University of Oxford, Baroness Vivien Stern, Chair of the All Party Parliamentary Group for Abolition of the Death Penalty, and Jacqueline Macalesher from Penal Reform International.
The podcast is available listen to below or you can download via our website or iTunes.
Human rights: the death penalty by Foreignoffice on Mixcloud
Published 9 October 2011