Human rights of Palestinian children in the West Bank
Minister for the Middle East Alistair Burt talked about the UK's concerns when he took part in an adjournment debate in Parliament on 7 December.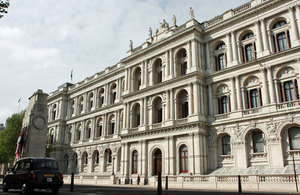 He began his speech by discussing the wider context, and by describing some of the UK's serious concerns about the human rights record of Hamas in Gaza.
He added that, whilst "there is no doubt about the universality of human rights principles, it important to recognise that Israel has real security concerns that need to be addressed", and that Israel has a "right to impose various security restrictions to protect its population". Having made this clear, the Minister went on to outline the UK's concerns about Israeli treatment of some Palestinian detainees.
"We have a number of concerns about the application of due process and the treatment of Palestinian detainees, in particular where Palestinian children are involved… we are concerned that Palestinian detainees are dealt with by the Israeli military court system, irrespective of the charges, whereas Israeli settlers who commit violence against Palestinians and their land are dealt with by Israel's civil justice system.
"Cases heard before the military court system are frequently based on secret evidence not made available to detainees and their lawyers… many convictions are based on confessions, either from the defendants themselves seeking a shorter sentence under plea bargaining or from the evidence of minors facing detention. Access to lawyers is often restricted, with many lawyers unable to meet their clients until they see them in the courtroom."
Since September 2000, over 2,500 children have been arrested. At least 256 Palestinian children are being held in Israeli prisons, including 34 children under the age of 16. As is the case with adult prisoners, child detainees are often transferred to prisons located within Israel. In most cases, their families are not informed of their arrest.
The Minister for the Middle East welcomed Israel's announcement of a new juvenile court within its military judicial system:
"It is important that Israel has acknowledged that child detainees need to be treated differently from adults, and perhaps the consistent and persistent work of NGOs and parliamentarians is having some impact. We believe that it is even more important that that announcement now translates into changes on the ground in the treatment of minors.
"We are aware of the recent reports by the Palestinian section of Defence for Children International documenting alleged abuse of Palestinian children by Israeli security forces. The Israeli human rights NGO, B'Tselem, has just produced a report detailing its investigations into the arrests of at least 81 minors in the Silwan area of occupied East Jerusalem over the past year. The Government pays tribute to those NGOs with whom we work in close co-operation on many issues. B'Tselem's concerns include arresting children at night from their home; preventing parents from being present at interrogations; allegations of violent treatment; and the detention of four minors under the age of 12-many of the issues raised by hon. Members this morning. We are urgently investigating and will take whatever action we judge to be appropriate."
"The Middle East and North Africa conflict prevention pool has recently approved funding of £12,500 for a project run by Defence for Children International. That project aims to defend, promote and protect the rights of Palestinian children to reduce the number directly and indirectly affected by the conflict through focused themed advocacy initiatives, in accordance with the convention on the rights of the child."
Published 10 December 2010