News story
Human Rights Day 2014: Nick Clegg's message
The Deputy Prime Minister sends a message to mark Human Rights Day 2014: "No person, no country can ever prosper without basic freedoms".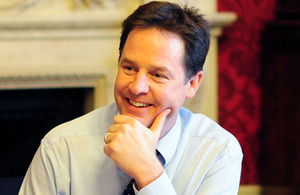 The Deputy Prime Minister Nick Clegg said:
The fight for global human rights doesn't begin and end on 10 December. But Human Rights Day is a reminder of the struggles that human rights activists around the world face every single day while working to secure equal rights for those women, men and children still denied them.

No person, no country can ever truly prosper without these basic freedoms – the rights of free expression, democratic participation and equality before the law, the right to peaceful protest, the right to be educated and the opportunity to work.

These are the principles on which our country is built. What they promise for all is a better future – a chance to live with dignity, free from the shadow of violence, repression and conflict. The UK is committed to promote and protect universal human rights wherever and whenever they are threatened in every way we can.

On Human Rights Day 2014, we can each do our bit. This includes tweeting your support via #Rights365 and, most importantly, reaching out to help human rights defenders and those suffering from human rights abuses through the Amnesty International UK Write for Rights campaign.

Together, we can build the world we want – a place where social justice, political freedom and economic empowerment are a reality for all.
Published 10 December 2014