"Human Rights Council is sending a clear message to the Assad regime that their barbarity will not go unchallenged"
British Ambassador to the UN in Geneva Karen Pierce delivered the UK intervention at the Human Rights Council on 1 June.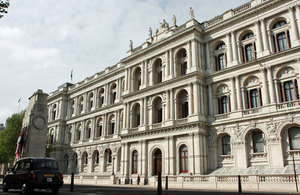 Full text of the UK statement:
We support the statement made by Denmark on behalf of the EU.
Nearly every delegate who has spoken today has condemned the horrific massacre at Houla - a condemnation that has echoed around the world. The Houla killings of men, women and children stand out against the continuing acts of barbarity by the Syrian regime. The High Commissioner for Human Rights has spoken of crimes against humanity and the International Criminal Court. The UN Mission in Syria has confirmed that artillery tank shells had been used, which can only have come from the Government side. There are reports of government militias holding guns to the heads of children. What depth of hatred, what repudiation of humanity exists to cause the massacre of 49 children of primary school age. That is more children than there are members of this Council. Those responsible for the killings - at whatever level - will be held to account. Army commanders should think about that as should paramilitary forces on the ground.
The UK strongly supports calls for the Commission of Inquiry to conduct a special investigation into the Houla killings. This should be done in a timely fashion and will ensure that evidence is collected and preserved for justice purposes. We call on the Syrian government to provide unhindered access to the Commission.
Today's session has also showed the international community united in its support for Joint UN/Arab League Envoy. Kofi Annan's six point plan remains the best hope for Syria. The regime's continued refusal to implement the six point plan and its ruthless suppression of legitimate opposition is creating space for terrorist groups who do not represent the legitimate aims of the Syrian people. This is destabilising, and leads only to further violence and suffering. We call also on the opposition to cease acts of violence.
Madam President, a fourth consecutive Special Session on one country situation is unprecedented. The Human Rights Council is sending today a clear message to the Assad regime that their barbarity will not go unchallenged. The violence must end now. We call on all Council members to support the resolution before us.
Published 1 June 2012