World news story
Human Rights Council 40: Explanation of Vote Nicaragua
The UK made clear its stance on resolution L.8, regarding human rights in Nicaragua, and urged all members to support it.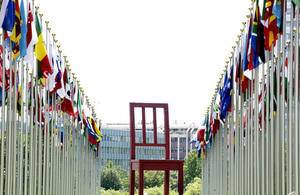 Thank you Mr President,
The UK will vote in favour of resolution L.8 entitled Promotion and protection of human rights in Nicaragua. We stand in full support with the countries of Argentina, Brazil, Chile, Canada, Colombia, Costa Rica, Ecuador, Paraguay and Peru; the main co-sponsors of this resolution.
The High Commissioner and a series of Special Procedures mandate holders have raised serious concerns about the human rights situation in Nicaragua, and the Council has a duty to respond to the crisis.
Mr President,
The arguments used against this resolution: that is it politicised, that it is selective, or even outright denials of the many very serious allegations of human rights violations and abuses in Nicaragua are not credible. With hundreds dead, thousands injured and still many political prisoners languishing in detention centres that don't comply with international standards, this resolution is both warranted, but also much-needed.
By requesting the OHCHR to monitor and report on the situation on the ground, the resolution paves the way towards improving the human rights situation for all Nicaraguans.
We urge all members of the Council to vote in favour of this resolution.
Thank you.
Published 21 March 2019