World news story
Human Rights Council 37: Urgent debate on Human Rights Situation in Eastern Ghouta
This UK statement was delivered by Ambassador Julian Braithwaite during the Urgent Debate on the Human Rights Situation in Eastern Ghouta, held on 2 March 2018.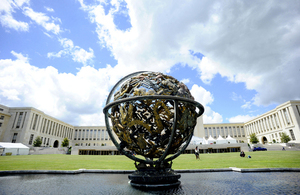 We have called this urgent debate to focus on the appalling situation in eastern Ghouta. The Human Rights Council must not ignore the desperate plight of the 400,000 men, women and children who are besieged there.
Since 2011, the Human Rights Council has been seized of the situation in Syria and the UN independent Commission of Inquiry has documented the most appalling violations, abuses and suffering.
Eastern Ghouta has now become the epicentre of that suffering, as starving civilians shelter in basements from relentless regime bombardment. It is a bombardment that is killing civilians daily. And these attacks are ongoing.
During crises we look to the UN's mechanisms of protection to respond and alleviate suffering. But UNICEF was so appalled by the plight of children in eastern Ghouta it issued a blank statement. The message was clear – there is nothing left to say. What we need is action and, the Human Rights Council must respond to insist upon that action.
The UN Security Council adopted resolution 2401 on Saturday demanding that all parties cease hostilities without delay for at least 30 consecutive days to allow safe, unimpeded, and sustained delivery of humanitarian aid and services and medical evacuations of the critically sick and wounded, in accordance with applicable international law.
Yet the Syrian regime and its supporters have continued to block humanitarian access and to bomb the beleaguered population of eastern Ghouta.
As the UN Secretary General said in his opening address to the Human Rights Council on Monday said, it is "high time to stop this hell on earth".
We, the Members of the Human Rights Council, must sent a clear message to the Syrian regime and its backers that we are watching and we will hold them to account for their actions.
We urge you to support the resolution we have tabled at the conclusion of this session in order to send this clear message.
Published 2 March 2018