World news story
Human Rights Council 37: UPR Adoption Pakistan
This UK Statement was written for the 37th Session of the Human Rights Council for the Universal Periodic Review adoption of Pakistan, held 19 March 2018.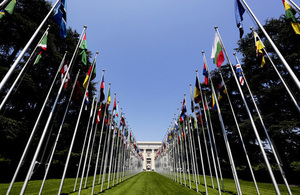 The UK welcomes Pakistan's continued engagement with the UPR and its support for one of our recommendations.
We recognise the positive steps taken by Pakistan, including: the establishment of a National Commission for Human Rights; passing of laws on the rights of women and persons belonging to minorities; and the launch of a National Action Plan for Human Rights. We also welcome the commitment to establish a national strategic framework against trafficking in persons and human smuggling. It will be vital for Pakistan to ensure that there is sufficient will and resource to fully implement these steps.
We remain deeply concerned about Pakistan's overall human rights record. In particular, the limits on the freedom of expression, including for human rights defenders and journalists, and the freedom of religion or belief. We call on Pakistan to strengthen the protection of its minorities by establishing an independent National Commission for Minorities, with representatives from all faith communities, and a fully inclusive electoral register without religious bias.
We urge Pakistan to set a clear timeline for the review of legislation carrying the death penalty, with the aim of limiting the scope of crimes to which it applies.
Published 19 March 2018