World news story
Human Rights Council 37: Rights of the Child
This UK statement was delivered at the 37th Session of the Human Rights Council during the Annual Full Day Meeting on the Rights of the Child, held on 5 March 2018.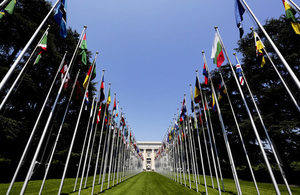 The UK welcomes the report by the UN High Commissioner for Human Rights on protecting the rights of the child in humanitarian situations.
We share concerns that children are exposed to a wide range of risks in humanitarian situations. Child protection, namely the prevention of exploitation, violence and abuse and the provision of food, emergency shelter and clean water should be the immediate focuses of humanitarian action.
The UK has pledged £50 million over five years to tackle violence against children globally, including £10m on a global programme to tackle child sexual exploitation in 17 countries. The UK's £35 million five-year programme to end Female Genital Mutilation by 2030 is the largest contribution of any single country.
Humanitarian crises deprive children of their right to education during crucial developmental years. Especially girls, who are two and a half times more likely to be out of school than boys in humanitarian situations. The UK is playing an active part in the global push towards the provision of high quality schooling for the most marginalised girls. In line with the UN Sustainable Development Goals, notably SDG 4 on education for all and SDG 5 on gender equality, we will work with partners to achieve 12 years quality education for all children by 2030.
We need to overcome the structural barriers many girls face in accessing an education, including by preventing and combating child, early, forced marriages.
We would like to ask the panel, how we can ensure that more girls have access to education in humanitarian situations?
Published 5 March 2018