World news story
Human Rights Council 37: Rights of Persons with Disabilities
This UK statement was written for 37th Session of the Human Rights Council during the Annual Debate on the Rights of Persons with Disabilities on access to justice, held on 7 March 2018.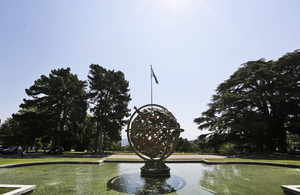 The UK is committed to a rights-based approach to disability inclusion and to implementation of the Convention on the Rights of Persons with Disabilities. We recognise the importance of access to justice for persons with disabilities, in line with Article 13 of the Convention and Goal 16 of the Sustainable Development Goals.
Both domestically and internationally, we are fighting the appalling levels of stigma and discrimination that people with disabilities face, improving data and evidence, increasing action and investment, and rallying others to this important cause. We do this through things like the Disability Catalyst Programme and the Disability Rights Fund.
On the 24th July 2018, we will host a Global Disability Summit alongside the International Disability Alliance and the Government of Kenya, to increase action and investment, lock in progress and share best practice on disability inclusion.
What does the panel consider the most pressing of challenges facing States in improving access to justice of persons with disabilities?
Published 8 March 2018