Human Rights Council 37: ID with UN Commission of Inquiry on Syria
This UK statement was delivered at the 37th Session of the Human Rights Council during the Interactive Dialogue with UN Commission of Inquiry with Syria, held 13 March 2018.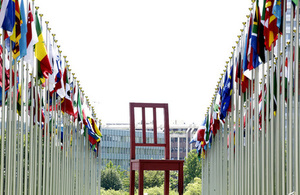 The UK thanks the Independent Commission of Inquiry (COI) for its latest report documenting the Syrian conflict's devastating consequences for civilians. It rightly highlights the appalling suffering caused by sieges, in particular the siege of eastern Ghouta by pro-regime forces, and condemns the deliberate targeting of civilians by unlawful methods of warfare including chemical weapons. It reminds us that we must continue to press for the release of those who are arbitrarily detained, many of whom suffer torture or worse.
We commend the COI's ongoing efforts in documenting violations and abuses and we support the Commission's call for justice for the victims. We urge Member States to support the renewal of the COI's mandate and call for the COI to have unhindered access to Syria. We welcome the COI's commitment to work closely with the International, Impartial and Independent Mechanism to ensure that those responsible for the most serious international crimes during the conflict are held accountable. In particular, those who have used sexual violence as a weapon of conflict must be brought to justice.
The UK condemns in the strongest possible terms all human rights violations and abuses by all parties. It remains clear from the Commission's reporting that the Syrian regime and its backers bear overwhelming responsibility for the suffering in Syria. We need to see a negotiated political transition to end this conflict, which enters into its eighth year tomorrow, and bring sustainable peace. The UK will continue to work with international partners to support the people of Syria, support victims and survivors of sexual violence and bring perpetrators of these crimes to justice.
Mr Pinheiro,
Does the COI have estimates for the numbers of people detained and disappeared?
Published 13 March 2018