World news story
Human Rights Council 37: Human Rights situation in Eritrea
This UK statement was delivered at the 37th Session of the Human Rights Council during the Interactive Dialogue on Eritrea, held on 12 March 2018.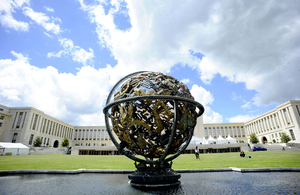 The United Kingdom would like to thank the Special Rapporteur for her work over the duration of her mandate.
The UK shares concerns highlighted by the Special Rapporteur on the human rights situation in Eritrea. We are particularly concerned by the arbitrary detention of people practising or involved in teaching certain faiths. This stands in contrast to the freedom to worship that the majority of Eritreans enjoy.
We welcome Eritrea's continued engagement with the Office of the High Commissioner for Human Rights and work by the United Nations Development Programme (UNDP) in taking forward the recommendations of the 2014 Universal Periodic Review. These are welcome indications that the Government of Eritrea is prepared to engage in efforts to improve the human rights situation and look forward to concrete progress on implementation.
We would like to ask the Special Rapporteur for her views on other potential and emerging areas for human rights cooperation aside from the UPR process.
The UK continues to call on the Government of Eritrea to honour all its international human rights obligations, and to cooperate with all aspects the UN human rights system. The UK continues to encourage the Government of Eritrea to allow the UN Special Rapporteur on Human Rights in Eritrea access to the country.
Published 12 March 2018