World news story
Human Rights Council 36: UK Statement on technical assistance and capacity-building
This UK statement was delivered at the 36th session of the Human Rights Council during the discussions uinder Item 10 on 28 September 2017.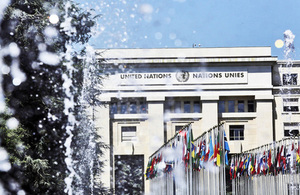 The UK welcomes the report of the Independent Expert on Somalia and supports the renewal of their mandate. We welcome progress made in Somalia but remain concerned by violations and urge the new authorities to implement commitments to improve accountability for human rights violations. We call for further efforts to promote and protect human rights and the rule of law. In this regard, the Kenyan Supreme Court's decision on the presidential election delivered a powerful statement about the rule of law, the independence of the judiciary, and the separation of powers. The new presidential election, due on 26 October, is another opportunity for Kenya to demonstrate the strength of its democracy and its institutions.
We welcome some positive steps taken by Sudan, including unilateral ceasefires, the release of prominent activists, and limited constitutional amendments. However, significant human rights concerns remain. Systemic changes are required for meaningful progress, including reform of the National Security Act, Public Order Laws, and judicial system. We urge the Government of Sudan to cooperate fully with the Independent Expert.
We regret that the human rights situation in Georgia's breakaway regions of Abkhazia and South Ossetia has deteriorated since HRC Resolution 34/37. We are concerned by additional crossing point closures and increased fencing, which further restricts freedom of movement; increased restrictions on access to education in one's native language; and continuing difficulties for minorities in obtaining identity documents giving full access to rights and services. We reiterate our call for unhindered access for international organisations.
As a strong supporter of Sexual and Reproductive Health and Rights, the UK co-hosted the Family Planning Summit on 11 July in conjunction with UNFPA and the Bill & Melinda Gates Foundation. The FP2020 Secretariat will monitor the implementation of commitments made at the Summit. FP2020 focal point network, which includes government and donor representatives in all the commitment-making countries, will provide technical support.
Published 28 September 2017