World news story
Human Rights Council 36: Human Rights in Ukraine
This UK statement was delivered at the 36th session of the Human Rights Council during the Interactive Dialogue on the High Commissioner's oral update on Ukraine on 26 September 2017.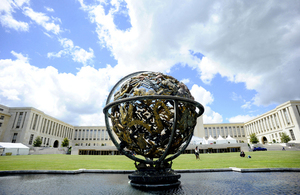 The UK welcomes the 19th OHCHR report of the Human Rights Monitoring Mission on Ukraine, and would like to underline the importance of this Interactive Dialogue.
The continued number of civilian casualties detailed in this report are unacceptable. The UK urges all parties to the conflict to work urgently to achieve a full and sustained ceasefire. We note, with concern, the report's details of ongoing enforced disappearances, incommunicado detention of individuals in non-government controlled areas, and the shelling by separatists of a clearly marked hospital; we are deeply concerned by the potentially catastrophic environmental threats caused by the fighting.
The UK also welcomes the thematic report on Crimea and Sevastopol, undertaken in line with UN General Assembly resolution 71/205. We commend OHCHR for completing this despite the ongoing denial of access to Crimea by the de facto authorities, in violation of that same UN resolution. This report lays bare the significant deterioration of the human rights situation since 2014, as well as the contempt shown by Russian and de facto authorities' for both international and human rights law. The report details numerous concerns including the forced imposition of Russian citizenship; retrospective application of laws; arbitrary arrests and detentions; and the forced psychiatric confinement and illegal transfer to Russia of prisoners and pre-trial detainees. The UK urges Russia and the de facto authorities to adhere to the recommendations raised in this report, beginning with granting OHCHR access to Crimea.
What can be done to improve the level of access the monitoring mission has to places of detention in non-government controlled areas?
And, has the OHCHR detected a trend of persecution of religious minorities in the non-government controlled areas of Ukraine?
Published 26 September 2017