World news story
Human Rights Council 36: Human Rights in Syria
This UK statement was delivered at the 36th session of the Human Rights Council during the Interactive Dialogue with the UN Commission of Inquiry on Syria on 18 September 2017.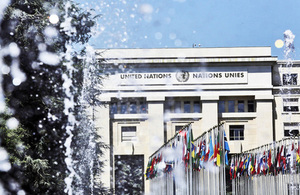 The UK expresses our continued support and thanks to the UN Commission of Inquiry on Syria for its vital work highlighting the dire human rights situation in Syria. We are appalled at the continuing widespread human rights violations and abuses, principally by the Syrian regime and terrorist groups. We condemn these violations and abuses in the strongest terms.
Humanitarian relief continues to be a profound concern, principally due to the regime's deliberate obstruction of aid, including the removal of medical supplies from convoys in the first six months of 2017.
The widespread practice of enforced disappearances, torture and execution by the regime reinforces the need for a transition to a government that can protect the rights of all Syrians. Thousands have died in custody. We reiterate our calls for the regime to release illegally held detainees and to allow impartial humanitarian actors access to its detention centres.
The Commission of Inquiry has stated that the sarin attack on Khan Sheikhoun in April was carried out by the Syrian air force. There must be accountability for the repeated, abhorrent use of chemical weapons in Syria. We strongly support the impartial, expert investigations by the Organisation for the Prohibition of Chemical Weapons (OPCW) and the UN Joint Investigative Mechanism.
Addressing the human rights and humanitarian tragedy in Syria is a UK priority. We call on all parties to the conflict to comply with international human rights law and international humanitarian law, to protect civilians, and to work for a political solution to end this suffering.
To conclude, I would like to pay tribute to Carla del Ponte's distinguished service as part of the Commission.
Published 18 September 2017