World news story
Human Rights Council 36: Resolution on the Death Penalty
This explanation of vote was delivered during the voting on the resolution on the death penalty at the 36th session of the Human Rights Council on 29 September 2017.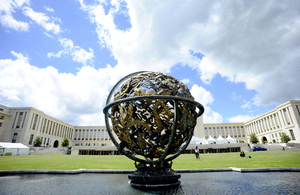 The UK cannot accept amendment L42 which clearly has no place in draft resolution L6. The draft resolution seeks to address important questions on the relationship between the imposition of the death penalty and various types of descrimination, both in law and in practice. However, the amendment requests research into the deterrent effect on the death penalty. This is therefore entirely irrelevant to the topic of the Resolution and should not be included.
It is not clear what the purpose of this amendment really is. Numerous empirical studies have been conducted on the question of whether the death penalty deters crime. There is no evidence that the death penalty prevents crime. Furthermore, there is a considerable body of evidence showing that the crime rate does not increase after the death penalty has been abolished. And comparative studies show that countries, where the death penalty is applied do not have lower crime rates than countries that have abolished the death penalty.
We will therefore vote NO on the amendment and call on all members on this Council to do the same.
The UK wishes to thank the main sponsors of L6 for presenting their draft resolution, which address the important issue of the death penalty.
The UK opposes the death penalty in all circumstances. The death penalty neither deters crime nor protects the public; it does nothing to aid victims, but serves instead to undermine the value of human life. When states respond to violence with executions, they risk creating the conditions for this violence to spread. In the two years since the last Council adopted a resolution on the death penalty, some states have considered re-instating the death penalty as a response to grievous and horrendous terrorist attacks which they have suffered. The UK sees no moral justification or practical benefit to judicial killing, even in these trying circumstances. When states execute, they risk surrendering their main defence against extremist ideology.
The draft resolution before us seeks to address the important linkages between different forms of discrimination and the application of the death penalty. In doing so it urges states not to apply the death penalty on those with mental or intellectual disabilities, on and persons below 18 years of age at the time of the commission of the crime, or on pregnant women; These should be points on which all states should be able to agree.
The main sponsors of this resolution have sought to address this topic in a collaborative, transparent and constructive way and tried hard to reach agreement. We welcome the fact that a number of Uk suggestions were incorporated into the draft resolution.
The UK will vote in favour of draft resolution L6 and hopes it will adopted by the Council.
Published 29 September 2017