World news story
Human Rights Council 35: Ukraine
This UK statement was delivered at the 35th session of the Human Rights Council during the discussion of Ukraine on 21 June 2017.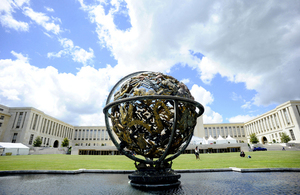 The UK welcomes the 18th OHCHR report on Ukraine, and we strongly support the Ukrainian resolution and the extension of oral updates to the HRC.
The deeply worrying trend of high civilian casualties in eastern Ukraine continues. We have passed another bloody milestone, with 10,000 people killed since 2014. Again, we call on both sides to protect civilians – the heavy casualties this year are a direct consequence of fighting in and around civilian areas. The further shrinking of the space for humanitarian activities in separatist areas detailed in the report is also very concerning.
The report again details a string of serious human rights violations in illegally annexed Crimea. These starkly outline the degradation of human rights on the peninsula since 2014. Reported violations include the arrest of Crimean Tatars for standing in the street, the interrogation of a lawyer as a witness in a case against his client, and the ongoing, retrospective, application of Russian Federation law, leading to individuals being charged for incidents that occurred years before Russia assumed its illegal control. There are also reports of Ukrainian prisoners illegally transferred to the Russian Federation, where they faced human rights violations, inadequate medical treatment and forced attempts to accept Russian nationality.
The de facto authorities in Crimea continue to deny international monitoring organisations access, preventing a true independent assessment of the human rights situation. We continue to call on the Russian Federation to grant access, in line with UN General Assembly resolution 71/205.
Can you give an update of progress on the thematic report into Human Rights in Crimea, as requested in UNGA resolution 71/205?
What can be done to improve the level of access the monitoring mission has to places of detention in non-governmental controlled areas?
Published 21 June 2017