World news story
Human Rights Council 35: Human trafficking, especially women and children
This statement was delivered by the UK at the 35th session of the Human Rights Council during Interactive Dialogue with the Special Rapporteur on human trafficking, especially women and children on 12 June 2017.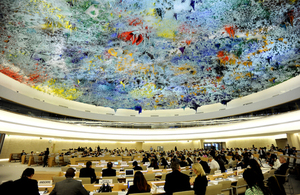 Global supply chains are an important element of the sustainable economic development that generates prosperity and jobs around the world. However, too often, those global supply chains contain people – including children - working in forced or grossly exploitative conditions, and in unsafe environments. We all have a duty to ensure that the prosperity that supply chains generate is not built upon the exploitation and suffering of the most vulnerable in our societies.
The UK welcomes the Special Rapporteur's recognition of the domestic efforts in enacting non-financial reporting obligations we have taken in recent years. The Modern Slavery Act 2015 was developed in response not just to consumer demands for greater business transparency on trafficking in persons and forced labour but also in response to the calls of businesses themselves.
We remain committed to implementing international guidelines and frameworks like the UN Guiding Principles on Business and Human Rights and the OECD Guidelines for Multinational Enterprises and stand ready to share our experiences and to learn from the experiences of others. We also recognise the importance of actively seeking out and listening to the views of business and other partners. .
In welcoming this report we would like to take this opportunity to ask the Special Rapporteur:
What practical measures would you recommend Member States prioritise over the next 12 months in this regard?

How can States better coordinate their support for the development of multi-stakeholder initiatives and industry coalitions in a way that increases their effectiveness and impact?
Published 12 June 2017