World news story
Human Rights Council 35: Explanation of Vote on amendment to the resolution on protecting human rights and countering terrorism
This statement was delivered by the UK as an explanation of vote on the resolution on protecting human rights and countering terrorism at the 35th Session of the Human Rights Council on 23 June 2017.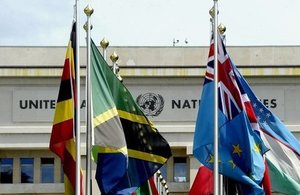 This amendment seeks to remove all references to "violent extremism conducive to terrorism" in this draft resolution. `The UN General Assembly has included the concept of "violent extremism" as an essential element to prevent terrorism.
Furthermore, the General Assembly has fully endorsed the UNSG report on the capability of the UN system to implement the UN Global CT Strategy, which led to the formal UNGA adoption of resolution A/71/L66 on 15 June, creating a new UN Office for CT in accordance with the competencies and functions laid out in the UNSG report. This particularly stresses that the mandate of the Office is to implement all four pillars of the Global Counter Terrorism Strategy in a balanced manner, which includes Preventing Violent Extremism. As with 70/291, 71/L66 was unanimously approved by UNGA.
The over-riding purpose of this resolution is to ensure the protection of human rights and fundamental freedoms while countering terrorism. This needs to encompass not the full spectrum of counter-terrorism measure. If we delete the concept of "violent extremism conducive to terrorism" then we would be ignoring the evolution of terrorism in the world in the last decade. Also it would suggest that when taking measures against violent extremism conducive to terrorism, that States need not ensure conformity with human rights; this cannot be correct.
In light of this, we call upon all Council members to vote "no" to this amendment, as we will do.
Published 23 June 2017