World news story
Human Rights Council 35: Eritrea
This UK statement was delivered at the 35th session of the Human Rights Council during Interactive Dialogue with the Special Rapporteur on Eritrea on 14 June 2017.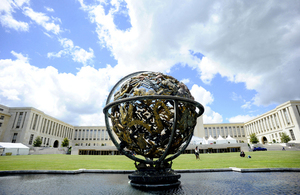 The United Kingdom thanks the Special Rapporteur, Ms. Keetharuth, for her report. The United Kingdom wishes to align itself with the EU statement and highlight some additional points.
The UK remains concerned at the human rights situation in Eritrea. We continue to make clear to the Government the need to ensure that those engaged in the national service system have a clearly defined limit to their period of service, and receive financial compensation commensurate to their duties. GoE should also implement the constitution, respect complete freedom of religion and belief, and release those in arbitrary detention.
The UK shares the Special Rapporteur's concerns about the plight of Eritrean refugees, and will continue to work with the EU and regional partners in this regard. The UK recognises the Special Rapporteur's efforts, including in paragraph 9 of her report, to consider the wider regional context, whilst agreeing that these factors do not justify Eritrea's current national service policy and the related detentions.
We urge the GoE to continue to improve its relationships with the international community, and to explore ways in which the international community can assist in implementing the Special Rapporteur's recommendations, as well as the Universal Periodic Review recommendations accepted by GoE.
The UK would like to ask the Special Rapporteur: What steps does the SR propose to take to build relations with the GSE, and is there a priority area (or areas) on which she proposes to take steps in the final year of her mandate to advance progress on human rights in Eritrea? What can Member States do to support her?
Published 15 June 2017