World news story
Human Rights Council 35: Democratic Republic of the Congo
This UK statement was delivered at the 35th session of the Human Rights Council during the discussion of the DRC on 20 June 2017.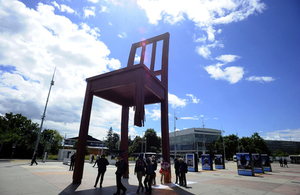 We share the High Commissioner's concerns regarding human rights in DRC. The situation in the Kasais and the continuing unrest in the East are of particular concern and the broader political situation points to a downward trajectory in the coming months.
The violence and human rights violations in the Kasais are deeply troubling. The humanitarian and security situation is dire with over 1.3m displaced people, more than 600 civilians killed and at least 42 mass graves found so far. The murder of two members of the UN Group of Experts in March underlines the seriousness of the situation.
It is vital that these events in the Kasais are properly investigated so that those responsible can be brought to justice. A fully transparent investigation that meets international standards will both help bring an end to the current violence and will help provide assurance to the local population that those responsible will not go unpunished.
While the Kasais is of great concern, let us not forget the continued conflicts in the East of the country. Inter-communal violence continues in the region and armed militia still terrorise the local population. The humanitarian situation in the East continues to deteriorate, with millions at continued risk.
Underlying much of the current tension in the DRC is the failure to organise elections. This has led to a deep political, security and socio-economic crisis with serious repercussions for the protection and the enjoyment of human rights in the DRC. We call on the Government of DRC to implement the 31 December deal with all haste to allow elections to take place before the end of 2017.
Published 20 June 2017