World news story
Human Rights Council 35: Burundi
This UK statement was delivered at the 35th session of the Human Rights Council during Interactive Dialogue with the Special Rapporteur on Burundi on 15 June 2017.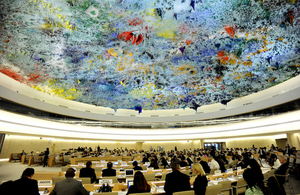 The UK thanks the Commission of Inquiry members for their presentation today, and extends its full support to their investigative work to identify those responsible for human rights violations in Burundi.
The UK remains extremely concerned by the deteriorating human rights situation in Burundi. Enforced disappearances, torture, unlawful killings, arbitrary arrests and detentions have continued unabated and with impunity.
Burundi's civil society including human rights organisations, defenders and the media continue to operate in an extremely restrictive environment. The Burundian population are forced to suffer under a climate of fear and repression. Most recently evidence has come to light of songs by the ruling party's youth wing – the Imbonerakure - encouraging rape, which the UK condemns in the strongest terms.
The UK is particularly concerned by the continued lack of co-operation with the Office of the United Nations High Commissioner for Human Rights (OHCHR) by the government. We urge the government to cooperate with OHCHR, including by reaching early agreement on the status of the OHCHR office in Bujumbura, and thereby demonstrate to the international community a genuine desire to bring an end to the current suffering and oppression of its people.
We call on the Burundian Government to collaborate with the Commission of Inquiry. To date there have been no indications that the Government of Burundi has taken any steps to acknowledge and end the violence, despite the fact that Burundi is a member of this Council with clear obligations to promote and protect human rights for all.
Please could the CoI provide an update on its engagement with the AU Peace and Security Council, in particular on the deployment of AU human rights observers?
Published 15 June 2017