World news story
Human Rights Council 35: Accelerating efforts to eliminate violence against women
This statement was delivered by the UK Gender Equality Envoy Joanna Roper during the 35th Session of the Human Rights Council at a panel entitled "Accelerating efforts to eliminate violence against women: engaging men and boys in preventing and responding to violence against women and girls" on 13 June 2017.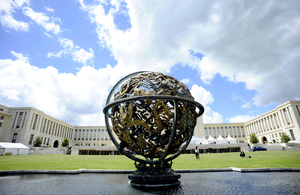 On behalf of the United Kingdom, I would like to thank the panellists for their insightful and practical ideas into how we can actively engage men and boys in the elimination of violence against women and girls.
In February I was appointed the UK's first-ever Special Envoy for Gender Equality. It is my role to ensure that through our foreign policy we consciously and consistently deliver for women and girls. Key to success remains the need to deploy all the tools we have at our disposal, and to engage with the widest range of stakeholders; women and men, boys and girls.
We know that violence against women and girls is one of the most systematic and widespread of human rights violations worldwide. Globally, 1 in 3 women is beaten or sexually abused in her lifetime. The stark reality is that violence against women and girls is rooted in power imbalances and in the social norms that maintain gender inequality between women and men, girls and boys.
Collectively we must do more to address gender inequality and to tackle violence against women and girls in all its settings. For gender equality is not a 'women's concern' but the responsibility of all individuals and of society as a whole. Men must take joint responsibility with women for the promotion of gender equality. More attention should be paid to how men and boys are involved in the achievement of gender equality, as well as to the positive impact of gender equality for men and boys, and for the well-being and health of society as a whole.
We would be grateful if the panellists could further elaborate on the specific challenges for encouraging the development, through early childcare and education, of practices aimed at eliminating gender stereotypes and promoting gender equality from an early age, in particular in engaging men and boys from an early stage.
Published 13 June 2017