World news story
Human Rights Council 34: Universal Periodic Review of Zimbabwe
This statement was delivered during the 34th session of the Human Rights Council on 16 March 2017.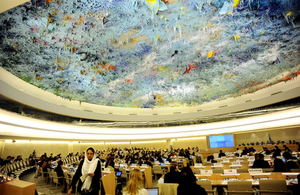 The UK thanks Zimbabwe for its continued commitment to the Universal Periodic Review process.
We welcome Zimbabwe's adoption of the 2013 Constitution and the start of the process to bring existing legislation in line with it. We look to the Government of Zimbabwe, having accepted the UK's recommendation, to enact substantive legislation, including aligning electoral, public order and media laws which will be crucial steps in preparation for 2018 elections.
We also welcome Zimbabwe's commitment to step up efforts to improve prison and police cell conditions, to adopt the Convention Against Torture and to reconsider its approach to the death penalty.
We note Zimbabwe's acceptance of the UK's recommendation to respect the right to shelter and property, and look forward to seeing progress in this area.
We continue to urge Zimbabwe's Human Rights Commission to investigate allegations of political violence. The UK is very concerned by instances of police brutality against peaceful protesters and the harassment and arrest of activists and members of the opposition.
Published 16 March 2017