World news story
Human Rights Council 34: Universal Periodic Review of Libya
This statement was delivered during the 34th session of the Human Rights Council on 21 March 2017.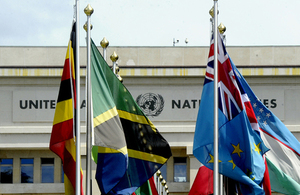 The UK is concerned by continued human rights violations and abuses committed across Libya, as highlighted in the latest joint report by OHCHR and UNSMIL. All those responsible must be held accountable.
More progress needs to be made on improving respect for human rights across Libya, and in strengthening justice, accountability and due legal process. The numerous unaccountable armed groups in the country remain a serious threat to peace and stability and we reiterate strong concern over the latest hostilities in Tripoli and the oil crescent. We call upon all parties to resolve their differences under the Libyan Political Agreement framework; to ensure respect for human rights and international humanitarian principles with regard to civilians; and to avoid further exacerbating the humanitarian crisis in the country by damaging the Libyan economy.
We encourage Prime Minister Serraj and the Government of Libya to continue to seek unity and inclusion to address the significant challenges that remain, and welcome Libya's continued constructive engagement with the Human Rights Council and the resolution to be adopted this session. We welcome the continued engagement of UNSMIL, the African Union, the Arab League and regional countries towards supporting the political resolution in Libya.
We would like to ask the High Commissioner how the international community can support efforts to ensure accountability for human rights violations and abuses in Libya; and how we can best integrate respect for human rights into efforts to support the political dialogue.
Published 21 March 2017