World news story
Human Rights Council 34: UK statement under Item 4 (countries of concern)
This statement was delivered during the discussion on countries of concern at the 34th session of the Human Rights Council on 14 March 2017.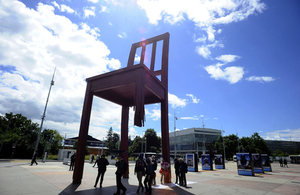 The UK would like to refer to our interventions in the interactive dialogues on Eritrea and Iran.
The Syrian people continue to suffer under the Asad regime. The Commission of Inquiry found that war crimes were committed in the battle for Aleppo. We call on all member states to support a strong and balanced resolution which renews the Commission's mandate.
We remain deeply troubled by the desperate humanitarian situation, ongoing human rights violations and abuses, widespread use of sexual violence, and attacks on civilians and aid workers in South Sudan. We urge the Government to fulfil its commitments to allow aid to reach those in need.
We are concerned by reports of torture, enforced disappearance and police abuses in Egypt. Restrictions on civil society, including asset freezes, travel bans and the closure of a prominent anti-torture NGO are particularly worrying. We urge the Government to allow NGOs to operate freely, as guaranteed by the Constitution.
We remain deeply concerned about human rights violations in the Democratic People's Republic of Korea (DPRK). The regime continues to prioritise nuclear and ballistic missile programmes while denying its citizens their human rights. We welcome the recent UN Panel of Experts' report on accountability.
We welcome Burma's transition to a more democratic government, and efforts to release political prisoners and reform draconian legislation. However, we remain deeply concerned by reports of human rights violations against the Rohingya, and by military offensives in Kachin and Shan, which risk undermining the peace process.
The UK is concerned by the continued detention of Chinese human rights lawyers and defenders and calls for a transparent and independent legal process in all cases. We remain concerned by ongoing reports of restrictions on religious freedoms and discrimination against minority groups.
The UK does not recognise the illegal annexation of Crimea by Russia, which has caused a steep decline in the human rights situation. The international community has repeatedly condemned Russia's refusal of access to the peninsula to international human rights organisations.
Published 14 March 2017