Human Rights Council 34: UK statement on the human rights situation in Syria
This statement was delivered during the High Level Panel Discussion on Syria on 14 March 2017.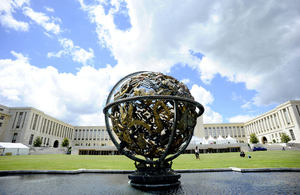 The UK is pleased to participate in this important discussion on arbitrary detention and enforced disappearances as we approach the sixth anniversary of the conflict. We are very grateful to the brave panel members who have shared their painful experiences, highlighting their suffering at the hands of the Syrian regime.
Arbitrary detention is an inhuman, senseless tactic of repression. In Syria, the Asad regime is by far the largest perpetrator.
The horrific consequences of the regime's actions have been laid bare by highly credible reports from the UN and international NGOs. The UN Commission of Inquiry has documented the systematic use of illegal detention, affecting tens of thousands of Syrians, many of whom have been subject to torture and sexual violence. Earlier this year, Amnesty International published its harrowing report documenting the execution of up to 13,000 prisoners in Sednaya prison.
The UK has led the Human Rights Council in calling for the release of detainees, and for the regime to explain the fate of those who have disappeared. We will also continue to support the Commission of Inquiry and the International Impartial and Independent Mechanism in their crucial work on accountability for those who commit these crimes.
The regime's actions are illegal and barbaric. The international community must be united in condemning these atrocities and in supporting their victims. Today's panel is part of that, and we thank again those who have bravely participated in it.
Published 14 March 2017