World news story
Human Rights Council 34: UK statement on the human rights situation in Iran
From:

Part of:

Published:

13 March 2017
This statement was delivered during the Interactive Dialogue with the Special Rapporteur on the situation of human rights in Iran on 13 March 2017.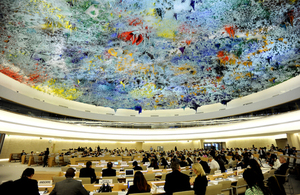 The United Kingdom would like to congratulate the Special Rapporteur on her appointment and thank for her report and presentation. The UK endorses the statement made on behalf of the European Union.
The UK remains deeply concerned by the human rights situation in Iran, including the continued and frequent use of the death penalty. We fully agree with your recommendation to establish a moratorium on its use, including immediately and unconditionally prohibiting the sentencing of children to death.
The UK also remains deeply concerned about the persecution and discrimination of religious minorities in Iran, including the treatment of Baha'is, Christians, and Sufis. We echo your call for the Iranian authorities to recognise that freedom of religion and belief entails the freedom to choose a religion or belief free from discriminatory or restrictive measures.
We share your concerns on freedom of expression. In particular, the harassment and detention of human rights defenders and social media activists continues to cause alarm. We agree with your assessment that the government has a responsibility to ensure that human rights defenders do not face prosecution for promoting and advancing human rights in the country.
While any number of executions in 2016 is unacceptable, it represents a significant reduction on the use of the death penalty from 2015. Do you think this trend will continue into 2017?
What is your assessment of the potential impact of the Charter on Citizen's Rights given that we are yet to see any real improvements following the recent amendments of the penal code and the code of criminal procedure?