World news story
Human Rights Council 34: UK statement on the human rights situation in Burundi
From:

Part of:

Published:

13 March 2017
This statement was delivered during the Interactive Dialogue with the Special Rapporteur on the situation of human rights in Burundi on 13 March 2017.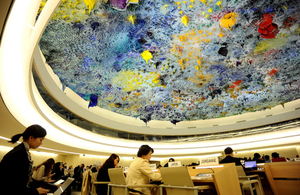 The UK thanks the Commission of Inquiry members for their presentation, and extends its full support to their investigative work.
The UK continues to be deeply concerned by the human rights situation in Burundi. Recent disturbing reports indicate instances of torture, arbitrary arrests and detentions, and a significant increase in the number of enforced disappearances.
Personal freedoms are severely curtailed by the government and its brutal security apparatus, with human rights organisations banned or suspended and human rights defenders harassed and intimidated. We commend the dedication and courage of those who continue to report on human rights in Burundi in extremely challenging circumstances.
The UK condemns the Government's lack of co-operation with OHCHR. Collaborating with the Commission of Inquiry offers an opportunity for the government to provide a transparent picture of the human rights situation in Burundi. If the state has nothing to hide, then it has no reason not to co-operate.
We call on President Nkurunziza to reverse this unacceptable policy of obstruction and evasion, and to co-operate with international efforts to end the current climate of fear and suffering. The Burundian government must demonstrate to the international community that it is acting in the best interests of all Burundians.
Could the panel comment on the level at which responsibility for issuing orders that violate human rights ultimately lies?
Can the CoI team provide an update on its engagement with the AU Peace and Security Council, including barriers preventing the deployment of AU human rights observers?