World news story
Human Rights Council 34: UK statement on Terrorism and Cultural Rights
From:

Part of:

Published:

3 March 2017
The statement on terrorism and cultural rights was delivered on the 2 March 2017 during the interactive dialogue with the Special Rapporteurs.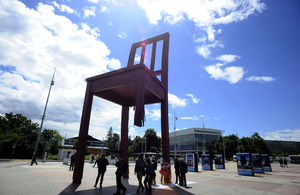 We thank the Special Rapporteur for the presentation of his report and for his work over the past six years. We wish him well in future. We look forward to working with the new Special Rapporteur in due course and reaffirm our support for the mandate of this role. We call on all states to support this mandate and to cooperate fully with the requests of all Special Procedures.
The UK, with the Special Rapporteur agrees that the nature of terrorism is constantly evolving. We would also agree with the view that respect for human rights should be central to counter-terrorism initiatives. We note the recommendation that UN CT architecture is in need of reform and appreciate this recommendation from an experienced Special Rapporteur. We are pleased that there was broad support for proposals in an informal General Assembly meeting on 22 February and look forward to progressing this discussion in that forum.
We are fully committed to the fight against terrorism and extremism around the world; like others, we reiterate that this must be pursued in full respect of human rights and fundamental freedoms, and international law. And the scale of the challenge demands a comprehensive approach.
In his final session, we would like to ask the Special Rapporteur what advice he would give his successor from his six years of service to ensure that human rights remains at the heart of counter-terrorism efforts?