World news story
Human Rights Council 34: UK statement on Freedom of Religious Belief and Truth, Justice, Reparation and Non-Recurrence
The statement on Freedom of Religious Belief and Truth, Justice, Reparation and Non-Recurrence was delivered on the 7 March 2017 during the interactive dialogue with the Special Rapporteurs.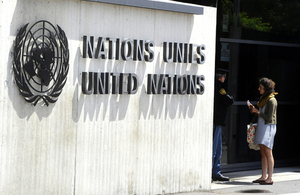 The United Kingdom would like to thank Mr de Greiff for his report and his emphasis on victim participation and protection in transitional justice measures. We recognise the importance of engaging victims in transitional justice to ensure that their interests are taken into account and that they have access to truth, justice and reparations.
We share the Rapporteur's concerns that this ideal is easier to talk about than to do. A victim's participation involves risks to their security and to their community and can lead to re-traumatisation. Addressing these risks is key. In collaboration with NGOs, the UK supports a number of projects which provide physical and psychological support to victims in a number of post-conflict countries.
Mr Rapporteur, how can the international community ensure a clearer approach to victim participation in transitional justice?
The United Kingdom would like to thank Mr Shaheed for his report to the Council.
Freedom of religion or belief remains a high priority for the UK. We believe that an antidote to extremism is building open, equitable, inclusive and pluralistic societies in which fundamental rights and freedoms are respected – including the freedom of religion or belief.
The UK shares the Rapporteur's concerns on the severe restrictions on freedom of religion or belief by some governments. We continue to hear of cases where individuals are persecuted for their belief. The UK is particularly concerned about the situation of religious minorities in the Middle East, including, Christians, Yazidis, the Baha'is, and some Muslim minority groups.
Mr Rapporteur, your report calls on non-governmental human rights organisations to work with civil society actors to build coalitions that transcend boundaries based on religion or belief. How can States best support this? And, could you consider a focus on a particular issue or region, to bring people together on this issue?
Published 7 March 2017