World news story
Human Rights Council 34: UK statement on Colombia, Guatemala and Honduras
From:

Part of:

Published:

22 March 2017
This statement was delivered during the General Debate on Item 2 at the 34th session of the Human Rights Council on 23 March 2017.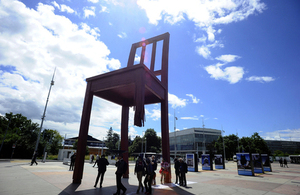 The UK thanks the High Commissioner for his reports and for his work in country.
We welcome progress made to implement Colombia's historic peace agreement with the FARC. We are concerned by the activity of illegal armed groups in areas vacated by the FARC and increasing violence against human rights defenders. The UK encourages all those supporting the peace process to ensure that protection of human rights remains a guiding principle.
The UK remains concerned about attacks against human rights defenders in Guatemala and asks for thorough investigations. We encourage the Guatemalan authorities to continue working with the International Commission Against Impunity in Guatemala (CICIG) on building an efficient and fair justice system. We congratulate Guatemala's efforts to establish a multisectoral dialogue on human rights and for being the first country in the world to try a case of sexual violence in conflict in the national courts. We remain concerned about the continued levels of violence against women and girls.
We remain concerned about the safety of human rights defenders in Honduras, especially those defending indigenous, LGBT and women's rights, and welcome the approval of a law to protect them. We ask for its effective implementation followed by satisfactory investigations. We call on Honduras to guarantee the right to freedom of expression in all its forms, and to ensure wide participation of civil society in the discussions about the new criminal code.