World news story
Human Rights Council 34: UK statement in response to the report by the High Comissioner for Human Rights
This statement was delivered on the 9 March 2017 at the Human Rights Council.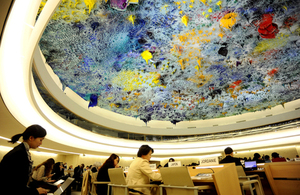 We are concerned by the pressure on religious and media freedoms in Bangladesh and by allegations of violations by Law Enforcement Agencies. We urge the Government to uphold its international human rights commitments.
The UK remains concerned by the continued erosion of democracy in the Maldives and by moves to reintroduce the death penalty, including against those who were minors at the time their crimes were committed.
We urge the Government of Bahrain to guarantee human rights and freedoms for all its citizens. The UK is committed to working with Bahrain to implement its reform agenda and strengthen human rights. We are concerned by the resumption of the use of the death penalty in Bahrain and Kuwait. We oppose capital sentences in all circumstances.
We are concerned that the fight against illegal drugs in the Philippines is eroding human rights. We urge the Government to ensure the deaths of suspects are investigated and the rule of law upheld. We ask them not to lower the age of criminal responsibility, or re-implement the death penalty.
We are deeply troubled by the situation in Israel and the OPTs. We condemn in the strongest terms all terrorist attacks and instances of incitement and glorification of terrorism. We have serious concerns about the recent growth in demolitions and illegal settlement activity, as well as the extensive use of administrative detention.
Yemen remains a concern. We welcome the cooperation between the Yemen National Commission and OHCHR. Finding a political solution is the best way to achieve stability. We will continue to support the UN Special Envoy to Yemen in facilitating a credible peace process.
In the Gambia, the new leadership offers an opportunity to effect positive change. The UK stands ready to offer support and guidance to President Barrow.
Published 9 March 2017