World news story
Human Rights Council 34, UK statement for the Biennial High-Level Panel on the Death Penalty
Statement on the death penalty was delivered on the 1 March 2017.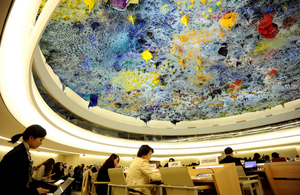 Most British people cannot remember our last execution, which took place in 1964. But the UK's painful experiences of the death penalty are still part of our national conscience. The execution of Timothy Evans in 1950 for a murder of which he was completely innocent, remains a vivid example of the vulnerability of the death penalty to most serious and irreversible error.
The UK's progress towards complete abolition was slow but steady. The last references to the death penalty were removed from legislation in 1998. Since moratorium and abolition, the UK's crime and murder rates have been low, demonstrating that the death penalty has no deterrent or protective value.
The British experience of incremental reform has been shared by most states. We applaud the large majority of states who voted for global moratorium at the General Assembly in December. We regret that a small number of states have taken the backward step of resuming executions after a period of moratorium. The death penalty is not a response to terrorism; its harshness however risks adding fuel to the flames of extremism. We welcome any and all steps that states can take to review death penalty provisions: restricting their scope, strengthening safeguards, appeals and clemency options. The death penalty is a violent and ineffective punishment which has no place in the twenty-first century.
Published 2 March 2017