World news story
Human Rights Council 34, UK statement during the interactive dialogue with the Special Rapporteurs on Torture and Human Rights Defenders
Statement on torture and human rights defenders was delivered on the 2 March 2017.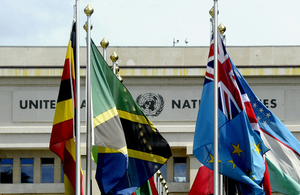 The UK congratulates the Special Rapporteur for Torture on his appointment. We look forward to working with you and supporting your mandate.
We remain committed to upholding our international human rights obligations and we continue in our efforts to eradicate the abhorrent practice of torture and cruel, inhuman or degrading treatment wherever it may occur. The UK's investigative interviewing technique, referred to as the PEACE model, was cited as a good example by your predecessor in his last thematic report.
The UK wishes to work closely with the UN and the Special Rapporteur on developing the universal guidelines on investigative interviewing. How do you envisage the role of the UK and other states in taking this crucial work forward?
We welcome the report by the Special Rapporteur on human rights defenders and commend his continuing efforts to draw attention to the difficulties and threats they face. We share his concern at the worsening situation and the fear that this concerted attack is ultimately an attack on democracy itself. The UK believes that the active engagement of civil society not only benefits but contributes to thriving, prosperous and secure societies.
We welcome the focus given to the role of business in supporting human rights defenders and recognise the positive steps many are taking to ensure they are involved in constructive dialogues and that mechanisms are put in place for involving local communities. However, we also recognise the fact that the primary responsibility rests with states and call upon all states to remove domestic laws which place obstacles in the way of legitimate activities by civil society.
Mr Forst, which are the best models you have seen for business to engage with human rights defenders and what more can be done to encourage and facilitate such dialogues?
Published 2 March 2017