World news story
Human Rights Council 34: UK Explanation of Voting on the Sri Lanka Resolution
This UK statement was delivered during discussion of the resolution during the 34th session of the Human Rights Council on 23 March 2017.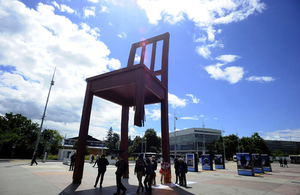 The United Kingdom would like to make a General comment on draft resolution L1 entitled Promoting reconciliation, accountability and human rights in Sri Lanka.
When this Council adopted HRC resolution 30/1 almost 18 months ago, it was a historic moment. It was the first time that the Council had passed a resolution on Sri Lanka by consensus after years of division. Sri Lanka came forward and committed to take meaningful actions to better protect the rights of its own people and to advance reconciliation within the country. Sri Lanka took national ownership by joining as a co-sponsor. 18 months on, we commend the government for the important progress delivered so far, as we did in our statement to the Council yesterday.
As the draft resolution recognises there is a need for further significant progress in relation to many of Sri Lanka's commitments from 2015 . The 24 months period covered by today's resolution will give Sri Lanka an opportunity to make this progress, and to take the steps necessary to win the confidence of all the different communities and stakeholders in Sri Lanka. Establishing a credible process of accountability, with the support of all communities, will be a key aspect of building this confidence and achieving meaningful reconciliation. We also call on the government to implement its legislation on an Office of Missing Persons so that is may be established without further delay.
We welcome the engagement and cooperation of the Government of Sri Lanka. And it is to the credit of the people of Sri Lanka that so many citizens came forward to contribute to its domestic process of consultation on mechanisms for justice and reconciliation. We commend the work of the Consultation Task Force on Reconciliation Mechanisms and encourage the government to give due consideration to its recommendations.
The draft resolution presented today reaffirms all of the commitments made by Sri Lanka in 2015. It recognises that the Government needs more time and more help to deliver them. This will require determined leadership by the Sri Lankan Government, which we stand ready to support. It will also require a clear plan for the implementation of the full content of resolution 30/1. We encourage the government to develop and put into effect a comprehensive time bound implementation strategy as a matter of priority.
We wish the Sri Lankan government and people well as they work to realise these important goals.
Published 23 March 2017