Human Rights Council 34: UK Explanation of Voting on the resolution on the situation of human rights in Iran.
This UK statement was delivered during discussion of the resolution during the 34th session of the Human Rights Council on 24 March 2017.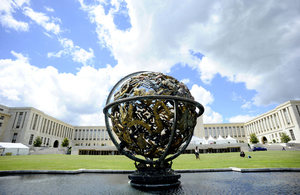 The United Kingdom would like to make an Explanation of Vote before the vote on L.17, entitled Situation of human rights in the Islamic Republic of Iran.
The UK wishes to thank the delegations of Sweden, Macedonia, USA and Republic of Moldova for the presentation of L. 17. We recognise the transparency of the core group in consulting with the delegation of Iran, and conducting open and transparent negotiations in good faith.
The United Kingdom remains deeply concerned about the human rights situation in Iran. The continued use of the death penalty, implementation of the rule of law, restrictions on freedom of expression and freedom of religion and belief, are deeply worrying.
The work of the Special Rapporteur provides a much-needed voice to those in Iran fighting for an improvement in the human rights situation, and the Special Rapporteur's reporting presents an independent overview. The UK fully supports the recommendations and conclusions in the Special Rapporteur's latest report. This includes her recommendation to establish a moratorium on the use of the death penalty, including immediately and unconditionally prohibiting the sentencing of children to death.
All countries stand to benefit from cooperation with UN mandate holders. Iran should allow the Special Rapporteur immediate access to the country, which it has so far failed to do. By increasing cooperation with the Special Rapporteur Iran will demonstrate to the international community that it takes seriously its commitments to improve the human rights situation. Working with the Special Rapporteur on the implementation of President Rouhani's Citizens Charter is one way to do this.
The nuclear deal was a major achievement and provides many opportunities for Iran which the UK fully supports. However, despite this renewed momentum in Iran's relationship with the international community we must continue to hold Iran to account for its human rights record, which has not improved. The role of the Human Rights Council is not to reward political developments but to address human rights situations. A resolution on Iran continues to be warranted, as does the extension of the mandate of the Special Rapporteur.
The United Kingdom will therefore vote YES on L.17 and we call on all members of the Council to join us in supporting this draft resolution.
Published 24 March 2017