World news story
Human Rights Council 34: UK Explanation of Voting on the resolution on democracy, human rights and rule of law
This UK statement was delivered during discussion of the resolution during the 34th session of the Human Rights Council on 24 March 2017.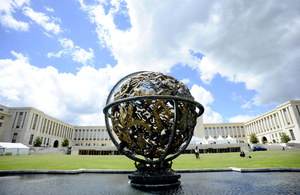 Amendment L.52 seeks to amend Operative Paragraph 4 of resolution L.20 on Human Rights, Democracy and the Rule of Law. The amendment seeks to impose a confusing and unnecessary limitation on the ability of NGOs to participate in the second session of the Forum, the theme of which will be "Parliaments as promoters of human rights, democracy and the rule of law".
Operative Paragraph 4 already contains a reference to the Charter of the United Nations. The existing text covers all of the purposes and principles of the Charter. This amendment seeks to put some elements of the Charter above others, in this case the "respect for sovereignty and territorial integrity of States". At best this causes unnecessary confusion. At worst this could used to try to restrict the ability of NGOS to participate in the forum.
Operative Paragraph 5 encourages the "broadest possible and most equitable participation" in the second session of the Forum. If the proposed amendment to Operative Paragraph 4 were made, it could undermine the spirit of broad and equitable participation. This would not be appropriate for any Forum resulting from a Human Rights Council resolution.
For this reason, the UK will vote against amendment L.52, and calls upon all members of the Council to do the same.
Published 24 March 2017