World news story
Human Rights Council 34: UK Explanation of Voting on the renewal of the mandate for the Commission of Inquiry on Syria
This UK statement was delivered during discussion of the resolution during the 34th session of the Human Rights Council on 24 March 2017.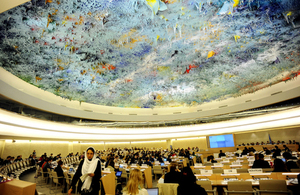 The UK presents this resolution on the human rights situation in Syria on behalf of a group of main sponsors: France, Germany, Italy, Jordan, Kuwait, Morocco, Qatar, Saudi Arabia, Turkey, UK and US.
As we enter the seventh year of the conflict, it is with great sadness that we present yet another resolution on Syria. The conflict continues to have a devastating impact on human rights. Men, women and children continue to have their human rights violated in the most fundamental way on a daily basis.
This is precisely why this resolution is necessary.
We remain gravely concerned about indiscriminate attacks and the deliberate targeting of civilians, which contravenes international law. The Assad government, Daesh, and foreign fighters, must stop the bloodshed.
We support fully the work of the UN Special Envoy, Staffan de Mistura, in trying to seek a political settlement.
Alongside this, it is essential that the Commission of Inquiry continues its work to document violations and abuses of human rights, committed by all parties.
This resolution extends the mandate of the Commission of Inquiry for a further 12 months to document serious violations and abuses of human rights and we call on the Syrian authorities to allow full access to the Commission.
We have consulted member states extensively on this text. We held an open informal with all states, and have made changes throughout the text to reflect their views. The resolution we present today calls on all parties to end the violence, respect human rights and comply with international law.
This resolution deserves the broadest support within the Council and we hope it can be adopted by consensus. To do otherwise is to let down the very people that this Council is duty bound to protect.
Published 24 March 2017